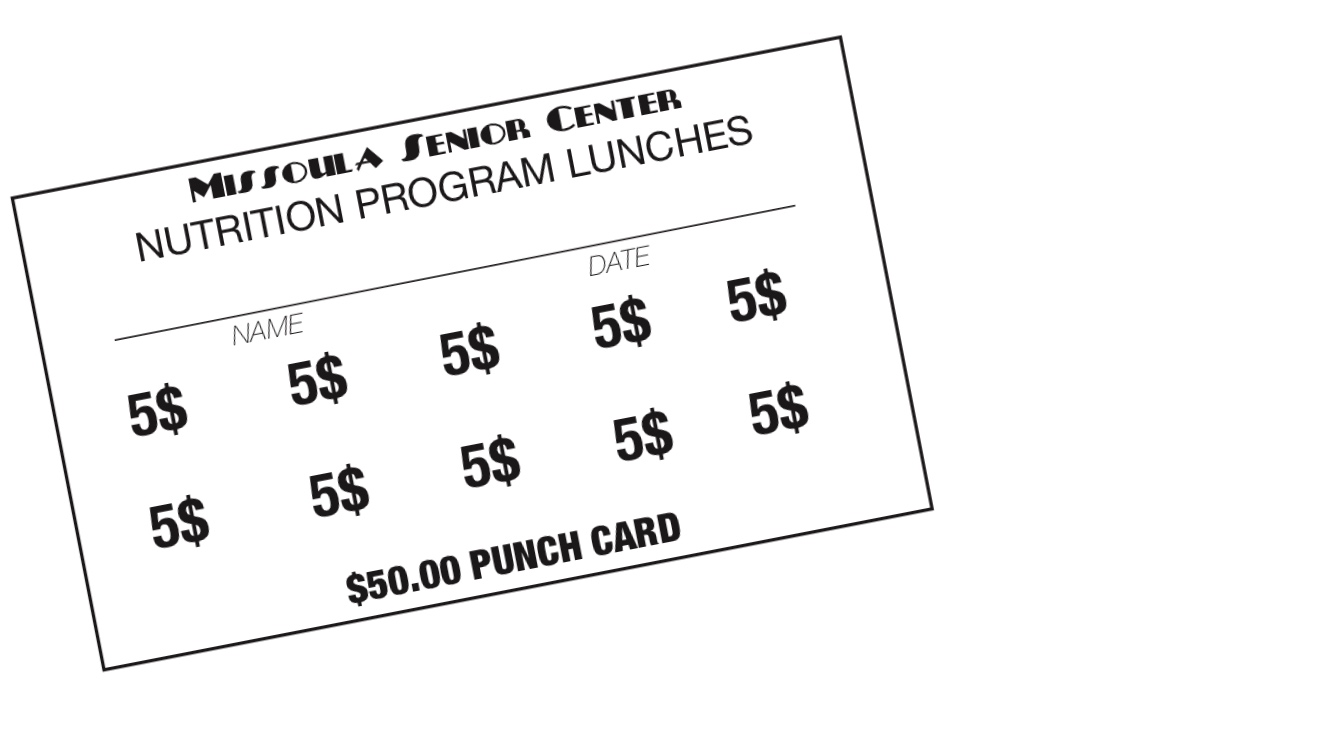 Punch Cards for lunch now available!
Nutrition Program (10 lunches for $50) and General Price (10 lunches for $70) punch cards are available for purchase at the MSC Front Desk.
The Missoula Senior Center serves lunch from 11:30am to 12:30pm Monday through Friday. Everyone is welcome, regardless of age to come in and enjoy a great home-made lunch by the talented Chef Roberta, MSC staff and volunteers!
LUNCH PRICES*:
$7.00 per person (non-nutrition program)
$5.00 if 60 or over if they are a part of the Missoula Aging Services / Missoula Senior Center nutrition program.
$6.00 UM Students
$5.00 Kids ages 9+
$FREE$ Kids 8 & Under
Breakfast and a la carte prices (increased March 1, 2019):
Salad Bar: $3.00
Bowl of Soup: $3.00
Cup of Soup: $2.00
Sandwich: $4.00
Dessert: $2.00
Coffee/Tea/Milk/Hot Chocolate/Cider: $0.50
To-Go Containers: $0.25/each
Breakfast Items: Cereal/Oatmeal & Milk: $1.00
PLEASE USE EXACT CHANGE WHEN POSSIBLE.
We now have a Missoula Federal Credit Union ATM on site which issues both $10 and $20 denominations!
*Prices updated as of March 1, 2019 to keep up with rising food costs. Thank you for your understanding as we strive to provide the best quality and economical food possible!

To join the nutrition program, contact MAS at 728-7682 or download the form here. Please return to MAS or to the Front Office.